My name is Barney Boisvert, and I'm a software developer specializing in Java, ColdFusion, and Flex web application development. I've been doing this professionally since '99, ever since I realized staying in college was the wrong choice (personally and financially).
I currently live in Tigard, OR, about 12 miles southwest of downtown Portland, along with my two kids: Lindsay (born in 2004) and Emery (born in 2005). In addition to my life of code, I ride a 2003 Triumph Sprint (motorcycle) and a 2007 Fuji Cross Comp (bicycle).
Official Bio
Here's my bio for directories, speaking engagements, etc.: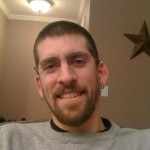 Barney Boisvert is a Senior Application Developer for Mentor Graphics Corp in Wilsonville, OR. He has been developing CFML, Java, and Groovy applications for over 10 years, ranging from ecommerce to crisis communication management to data mining and business intelligence. A strong proponent of open source, he has produced several frameworks and packages for CFML developers, as well as contributing to existing projects (including Fusebox, ColdSpring, Hibernate, Groovy, and Prototype). His blog on various technical topics can be found at www.barneyb.com. In his spare time he can usually be found on some mountain road – precariously balanced on two wheels – or eating something delicious.
Other Aliases
I try to keep my online identity as narrow as possible.  However, that's not always possible with nigh 7 billion other people in the world consuming unique usernames.  Where I can't use 'barneyb' (e.g., barneyb.com), I usually use 'bboisvert' (e.g., bboisvert@gmail.com), and occasionally 'barneyboisvert'.  In the past year or so there seems to have been a proliferation of other 'barneyb's in the world, but I remain the tallest and furriest.  Probably.